We create processes to maximise efficiency in video production projects. We prioritise creativity but follow a work methodology that allows us to optimise all our resources.
Fractal Media has developed and published over 80 live and on-demand video applications and services in the market's main Smart TV environments: LG, Samsung, Apple TV, Android TV, Hi Sense, Opera and Vestel.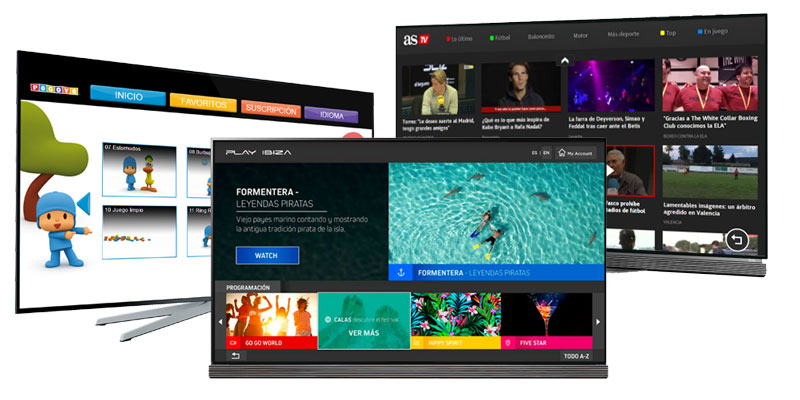 Now is the best time to increase your coverage on SmartTV devices.
Technology
The SmartTV development environment is already a stable ecosystem with standardised platforms capable of bringing together more than 70% of your potential audience.
Monetisation
You can easily increase your video inventory by offering it in an ideal environment for on-demand consumption or on a channel, creating profitable models with pre-roll ads using VAST standards or SVOD and PPV models.
Coverage
Convert your medium into a television channel at a fraction of the cost of a traditional broadcast, without territorial limits or external licenses.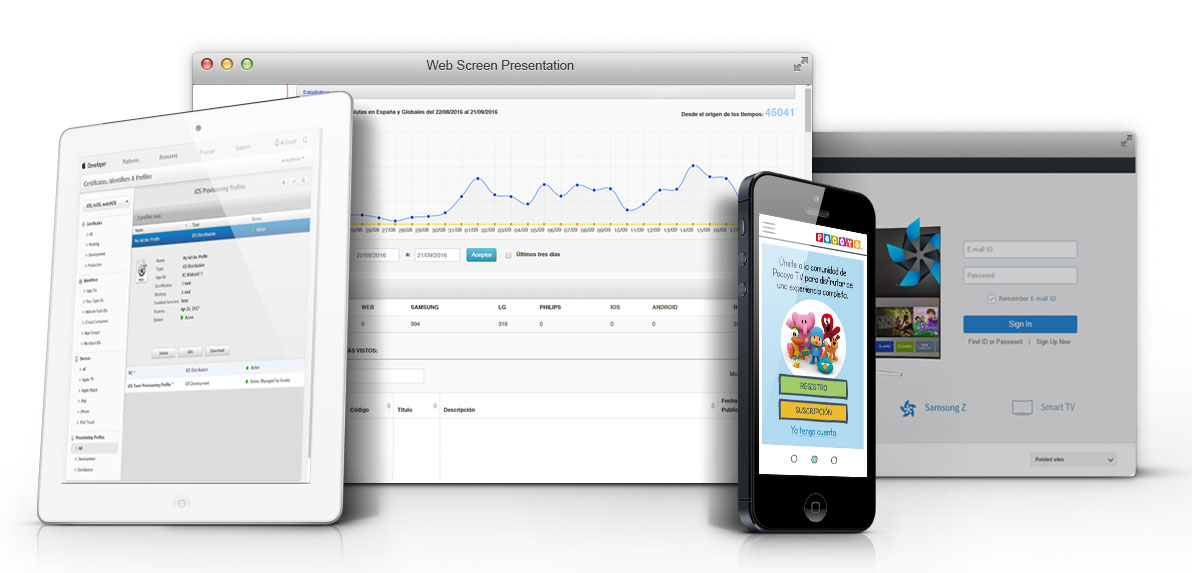 More than a developer
Let the largest specialist in the integration of SmartTV services and the most important manufacturers in the market accompany you in the publication process.
Wherever your content is, we'll make it accessible on SmartTV: your own CDN, Youtube, Dailymotion, Vimeo, etc. If you don't have a video service, Fractal Media can provide it.

We synchronise the publication of content with your video service, design and develop your app and define the selected business model: FVOD, SVOD, PPV.
We deal with the project's manufacturers from start to finish: publication conditions, territories, submission, certification, positioning.

With us you can control generated video plays and app access in real time, manage your advertising and plan your service's updates.
Join an innovative, risk-free environment
EXPERIENCE
Over 80 apps
published in
all
environments since
2010
EXPERTISE
Highly rigorous development
in the
least possible
time.
PROFITABILITY
Agility
and know-how
will reduce
your development
costs.
CENTRALISATION
Comprehensive
solutions where necessary:
Hosting,
Encoding,
CMS
INNOVATION
SmartTV
is one step
further in your
content's value
chain.